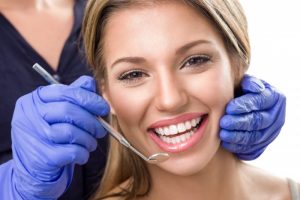 When you look in the mirror, are you in love with what's smiling back at you? Do you feel confident showing off your teeth and gums, or do you find your short teeth to be a bit childish than what you imagine your dream smile to be?
If you don't feel confident in the way that your smile looks, it's time to make a change with cosmetic dentistry. Thankfully, with porcelain veneers in Texarkana, you don't have to make those improvements slowly. You can fix multiple flaws in your smile with a simple cosmetic procedure. Learn all about veneers here!
Can Porcelain Veneers Help Me?
Porcelain veneers are thin sheaths of high-quality dental porcelain.  They work to simply fit over the front of your teeth to create your dream smile. They can be used to conceal a variety of cosmetic dental flaws and boost your self-esteem. Many patients prefer these porcelain veneers compared to other cosmetic dental work for this reason specifically.
Porcelain veneers are created from only the best dental material known as dental porcelain. Dental porcelain is shiny, white, and stain-resistant!  Our dentists also do match them to your existing teeth if you have surrounding teeth that you want to blend in with.
Am I a Good Candidate for Porcelain Veneers?
If you have problems with your self-confidence because you don't feel great about your smile, you might just be the perfect candidate for porcelain veneers. Your cosmetic dentist in Texarkana offers personalized veneers that effortlessly blend with your smile, creating your personalized dream smile! If you're seriously considering this cosmetic dental procedure, ask yourself these quick questions:
Do you have stains on your teeth that can't be lifted?
Are your teeth crooked or overlapping?
Does the unusual shape of your teeth effect your self-esteem?
Do you have short teeth that you're embarrassed of?
Do you have gaps between your teeth?
Have your teeth become chipped and flawed?
Are your teeth sensitive to hot or cold substances?
If you answered yes to any of those questions above, you'll most likely be aw great candidate for porcelain veneers from a dentist in Texarkana.
How Can I Get My Porcelain Veneers?
When you visit your dentist in Texarkana, we want you to feel welcome, relaxed, and ultimately open to discussing the vision you have for your smile. After discussing what you wish to achieve, you can develop your dental treatment plan to receive the cosmetic care you really want.
From there, our dentists will make the best cosmetic dental treatment recommendations for you—even if veneers aren't the best option for you, we can recommend something else.
---
About Our Office
Here at Pleasant Grove Family Dentistry, one of our biggest priorities is taking care of your smile's health, but it's just as important to feel good about or smiles! Everyone can use a boost of confidence and what else makes you feel better than a bright, white smile looking back at you? Feel free to call us today to schedule your consultation!