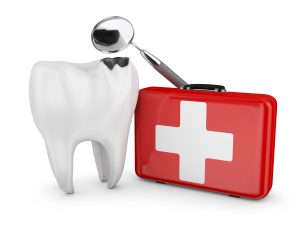 You've probably heard the old saying that, "If something bad can happen, it will." Unfortunately, there's a lot of truth to that statement, and it applies to your dental health as much as anywhere else. So instead of hoping that you can always successfully play dodge ball with disaster, your emergency dentist in Texarkana highly recommends that you take note of the different ways of responding to dental trauma that he'll outline.
What to Do for Any Dental Emergency
No matter what type of dental emergency you may find yourself in, there are two common denominators that always apply:
Don't panic! Remember that you're reading this so that you can have an effective plan of action.
Contact your emergency dentist immediately.
Now let's look at some common dental emergencies.
Swollen Face
Swelling is typically a sign of infection. Until you can be seen by your dentist, be sure to keep your head elevated and drink plenty of fluids.
Dislodged Tooth
If your tooth is knocked out, clean your hands thoroughly and pick it up by the crown (the rounded portion) and not by the roots, as this could contaminate the tooth. Then, place it back in its rightful place.
It's important that you re-insert it in the correct direction. You can use the teeth on the other side of your mouth as a guide.
Broken or Cracked Tooth
If you crack or break your tooth, expect to experience some sensitivity to temperature extremes, but amazingly, your saliva will begin to remineralize and insulate the area to provide some relief until you can get in to visit your dentist.
Bleeding
If you notice blood on your toothbrush or floss, it could indicate that you have an advanced condition and warrants a call to your dentist. Also, if you're bleeding after a procedure has been done, be sure to keep your head elevated. If the blood loss is consistent, head to your local emergency room.
Sudden Injury, Fall or Accident
If you play sports, you may receive a sudden blow to your face that could cause a serious injury. You could even fall while casually walking and cause facial-dental trauma. If you suspect that your jaw is broken, immediately head to your local emergency room, applying ice to the injured area while in transit.
Toothache
A toothache can be a sign of severe decay and infection and will more than likely cause swelling. You can apply ice in 20-minute intervals to reduce the inflammation and take ibuprofen for the pain.
A final point to remember is that using some of the above responses to trauma may deliver temporary relief, but the root cause of the problem has not been addressed. So it's important to visit your dentist in Texarkana as soon as possible for total healing.
About the Author
Dr. Torin Marracino earned his Doctor of Dental Surgery degree from the University of Tennessee. Since then, he has remained just as passionate about caring for patients as he was when he first graduated. He is an affiliate of several professional organizations and provides compassionate care from Pleasant Grove Family Dentistry. Dr. Marracino can be reached for more information through his website.