Dentist in Texarkana for Dentures and Partials
Throughout your life, you had never expected to live with the complications caused by missing teeth. Unfortunately, now you can no longer enjoy your favorite foods, speak clearly, or smile with confidence because you suffer from tooth loss. To fill the empty spaces, your dentist in Texarkana, Dr. Torin M. Marracino, has the solutions you need. With dentures or partials, you can regain a complete, functional, and beautiful smile. Although they have a bad reputation for looking fake in the past, rest assured that we use the highest quality materials to create a smile that looks natural.
Stop Living with Missing Teeth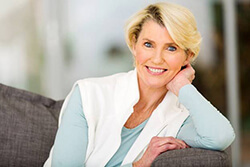 Every tooth in your mouth has an important role to promote your oral health and functions. When even one is missing, it significantly impacts your daily life as well as your dental health. If you do not replace them, the complications will continue, which can eventually lead to additional tooth loss.
To rehabilitate your smile and your quality of life, we can fill the empty spaces with partials or dentures in Texarkana.
Partials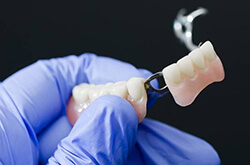 If you have several missing teeth, partials may be the solution for you. It involves a removable oral appliance that features a gum-colored plate that is designed to mimic your gums. The base holds your new prosthetic teeth, which is attached to a metal framework or attachments. This allows it to connect it to your remaining natural teeth to hold it in place.
Although it may feel a bit awkward at first, in no time at all you will be able to speak and chew with ease. With the right aftercare, your new smile will last for about 5 years before needing to be replaced. To promote its longevity, it is best to take the time to clean it each day while also visiting your dentist regularly for adjustments.
Dentures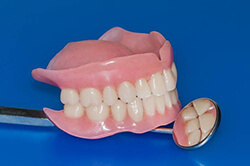 Complete tooth loss on the top or bottom arch can be treated with a full denture. Now, several advancements have been made to allow them to look and feel more natural than ever before. An acrylic gum-colored base is made from impressions of your mouth. Custom-made prosthetic teeth are attached to it. To hold the denture in place, an adhesive or suction is used.
A denture provides an affordable and convenient solution to treat your tooth loss. To ensure that your new smile lasts, it is best to take the time to clean and soak it each day. To promote the ideal fit, visit your dentist regularly for adjustments.
If you would like a more permanent solution, dental implants can be used to anchor the denture in on place.
Complete Your Smile Today
If you are ready to stop living with the challenges of missing teeth, Pleasant Grove Family Dentistry has the solutions you need. We will perform a comprehensive consultation to create a customized treatment plan to restore your smile with dentures or partials.
To start your journey to an improved quality of life, contact our office today to schedule your consultation.