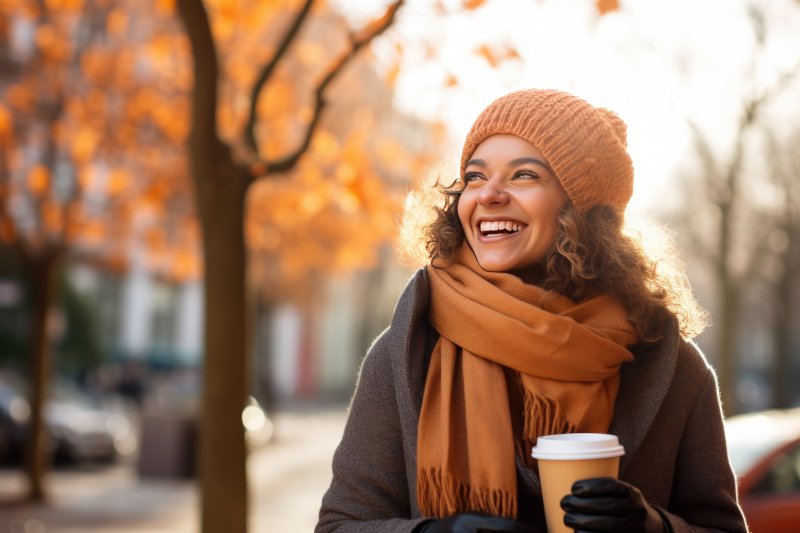 Does it usually take a warm cup of joe to get you going in the morning? You aren't the only one! Over half of all Americans typically enjoy at least one cup of coffee every day according to the National Coffee Association. While certainly enjoyable for the taste buds, the same can't be said about your pearly whites. Read on to learn about the negative effects coffee can have on your dental health and ways to keep your smile safe.
What Exactly Does Coffee Do to Your Teeth?
Did you know that drinking a cup of coffee every day can potentially decrease your risk of having a stroke, developing kidney or lung disease, and being diagnosed with diabetes? Even so, overindulging in this beverage can lead to complications in your smile you might not expect. On top of increasing the chance of halitosis (bad breath), drinking coffee too much can also lead to cavities, enamel erosion, and dental stains. If you also like to add creamer and sugar to your cup, this can result in even further damage to your teeth.
5 Ways to Keep Your Smile Healthy & Stain-Free
Although coffee can be troublesome for your teeth, it doesn't mean you'll have to quit drinking it altogether. If you want to enjoy your cup of joe as well as maintain a healthy smile, you'll simply have to implement a few measures to protect your oral health. These include:
Avoid casually sipping on coffee the entire day
Drink through a straw to minimize contact with your teeth
Sip plenty of water throughout the day to rinse out debris and dark-colored particles
Munch on crunchy veggies, such as celery and carrots, to minimize discoloration and halitosis
Brush and floss around 30 minutes after drinking your coffee
How Can Your Dentist Help?
If you're having difficulties with heavy discoloration or stains, you'll want to visit your dentist for the best help. Not only can they monitor your oral health to address underlying issues like cavities, but they'll also perform a deep cleaning to effectively remove surface stains. For more severe staining, they may offer cosmetic dentistry to brighten your smile, such as teeth whitening or veneers. Afterward, you'll be free to show off a brand-new set of pearly whites you can be proud of.
Enjoying your favorite cup of coffee shouldn't have to be a drawback to your overall oral health. Keep these tips in mind, and you should be able to keep your smile in great condition for the long term!
About the Author
Dr. Torin Marracino is proud to offer both preventive and cosmetic dental services to improve and maintain patients' smiles. As a member of the American Dental Association and the Arkansas State Dental Association, he offers deep teeth cleanings as well as options like professional whitening and veneers to address tooth discoloration and stains. If you want to know more about preserving the color of your grin or wish to schedule a consultation, visit his website or call him at 903-838-9700.