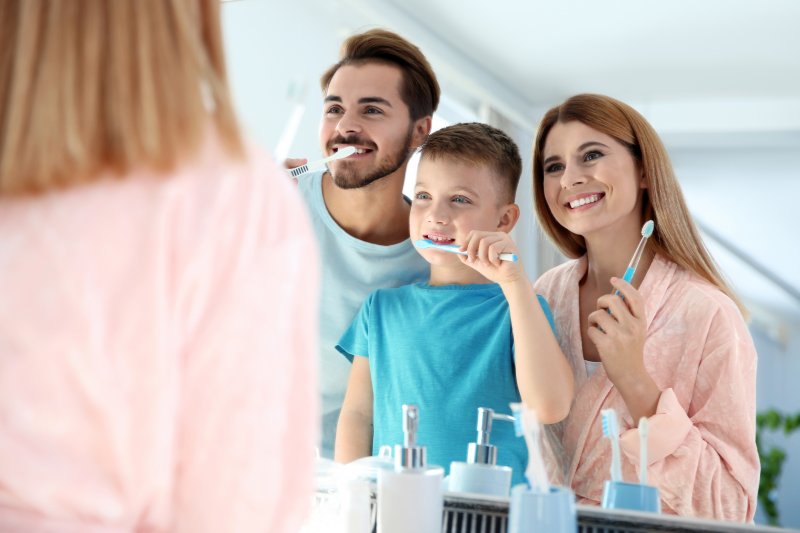 When you think of October, the health of your teeth probably takes a back seat to the biggest candy holiday of the year. But it's also Dental Hygiene Month! While it's fine to take on the challenge of improving your oral care over the next 31 days by yourself, it can be more fun and beneficial to get your whole family involved.
If you want to improve the oral health of your entire household this month and have fun doing it, continue reading. Below are five great tips for making it happen.
1. 31-Day Brush-a-Thon Challenge
It's easy to say, "let's brush our teeth every day." However, giving the activity a more engaging form can get less-enthusiastic members of your family to join in. Use a calander and points to keep track of your family's progress as they brush their teeth.
Each morning and night, get your family together at the sink to brush your teeth. Use a two-minute timer or a song that's about two minutes long to get the right amount of brushing in. Then floss, giving points for getting between every tooth!
2. Dental Tool Scavenger Hunts
During this month, set aside some time and budget to get some tools or decorations that would make taking care of teeth more fun or relaxing. This could include bathroom décor, toothbrushes, fun flavors of toothpaste for kids, timers, or even oral care devices like water-flossers.
The idea is to make it as easy and engaging as possible. Allowing your kids (and your partners) to customize their experience is a great way to give them some agency and buy-in.
3. Family "State of the Teeth" Addresses
At the end of each week, sit down with your family and discuss tooth-related subjects. This could be talking about how teeth work, how well everyone is doing in the challenge, or what barriers they're experiencing with their oral care routine.
Tally up scores at the end of each week and be sure to encourage your family no matter what the outcome is. If someone is falling behind, pump them up!
4. Medals and Prizes for Winners
At the end of the month, those who completed the challenge should be rewarded with something nice. This could be a medal, a specific treat, an experience, or something else that makes them feel good about sticking it out.
Getting your family engaged in a good oral hygiene routine can be easier said than done. However, after going through this challenge together, everyone should feel more comfortable and excited about caring for their teeth! At the end of it all, visit your dentist, and be proud of the results.
About the Author
Dr. Torin Marracino and Dr. Nick Cockerell are your friendly, professional dentists at Pleasant Grove Family Dentistry. Their knowledge and experience bring together advanced dental technology and modern practices to deliver quality care for your entire family. To schedule an appointment for a checkup and cleaning, call (903) 838-9700 or visit the website to explore other services.