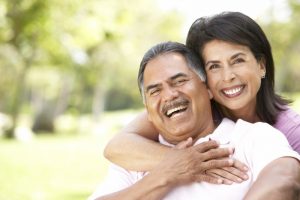 Summertime is just around the corner! Many of us are looking forward to all the family-get-togethers, backyard barbeques, and warm weather activities. Unfortunately, you may find it difficult to enjoy all your favorite aspects of the season if you have missing teeth or loose-fitting dentures. With dental implants in Texarkana, you can regain your confident smile and get back to living your life to the fullest. Here are five ways dental implants can help you have fun in the sun this summer!
1.) Show Off a Complete, Sunny Smile
Whether you're missing one, several, or all of your teeth, you can seamlessly rebuild your complete smile with dental implants. They're individually crafted from beautiful dental porcelain, which is a material that's well-known for being durable, stain-resistant, and indistinguishable from natural tooth enamel. This lifelike appearance means you can show off your confident smile in the sunshine without worry.
2.) Enjoy All Your Favorite Barbeque Foods
It can be difficult to eat your favorite backyard cookout foods if you have missing teeth or ill-fitting dentures. With dental implants, you don't have to eat around any dietary restrictions. These restorations can restore up to 80% of your biting power thanks to their rock-solid foundation in your jawbone. Feel free to continue to enjoy foods like steak, ribs, and corn-on-the-cob.
3.) Stay Focused on Warm Weather Fun
Does that gap in your smile make you feel self-conscious when you smile? Do you refrain from laughing because your dentures tend to slip out of place? These issues can distract you from being present in fun or memorable moments and take a toll on your confidence. On the other hand, replacing your teeth with dental implants is so comfortable, you may even forget they're there! Since they're fused into your jaw, you'll never feel them slip, shift, or pop out of place as you go about your daily life.
4.) Keep Looking Young in the Summertime Sun
Not only is a missing tooth inconvenient to live with, but it can cause you to age prematurely as well. Without a tooth's roots to stimulate blood flow, that part of the jawbone will begin to deteriorate and cause a sunken, aged look in the facial features. Dental implants can prevent bone loss and keep you looking young by replacing the tooth's roots as well as its crown.
5.) Protect Your Oral & Overall Health Year-Round
Rebuilding your smile can help it look and feel its best for summertime family photos as well as other get-togethers throughout the entire year. Missing teeth can collect plaque and bacteria while loose-fitting dentures can cause oral infections. Meanwhile, dental implants help lower your risk of tooth decay, gum disease, and other issues, which in turn reduces your risk of respiratory infections, digestive issues, and heart disease. What's more, you can easily expect them to last a lifetime with a simple yet effective routine of regular brushing and flossing.
Don't let missing teeth or poorly fitting dentures hold you back this summer. Dental implants can help you enjoy a beautiful, functional, and confident smile through every season of your life.
About the Practice
No matter how many teeth you're missing, the talented team of Pleasant Grove Family Dentistry in Texarkana, TX can rebuild your smile. They use state-of-the-art technology, high quality materials, and the latest dental techniques to help their patients receive the best dental implant treatment possible. If you'd like to find out if this modern tooth replacement option is right for you, feel free to contact them via their website or at (903) 838-9700.