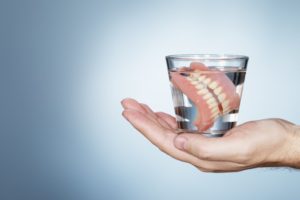 Dentures are a great way to enjoy having a confident, functional smile again after losing several or all of your teeth. Today's dentures are more comfortable, lifelike, and durable than ever before, but that doesn't mean they don't need regular care and maintenance. Properly caring for dentures can help you get the most out of your replacement teeth. Follow these tips to help your dentures last as long as possible!
Rinse Your Dentures After Eating
After every meal or snack, remove your dentures and hold them under running water to clear away any lingering food particles. Otherwise, they could attract bacteria.
Handle Your Dentures with Care
When handling your dentures, it can help to place a towel in the sink or on the counter. Alternatively, you could fill part of the sink with water. That way, your dentures will have some cushioning if you drop them, so they're less likely to break.
Clean Your Mouth After Taking Your Dentures Out
Another way to minimize the risk of infection is to clean your mouth whenever you're not wearing your dentures. If you have any real teeth remaining, clean them with a soft-bristled toothbrush. You can also use a soft toothbrush (but no toothpaste) or a gauze pad to clean your gums, tongue, the insides of your cheeks, and the roof of your mouth.
Brush Your Dentures Every Day
At least once a day, take a few minutes to gently clean your dentures with a soft brush and nonabrasive denture cleanser. This should remove lingering food debris and plaque. If you use adhesive, be sure to scrub the areas that fit on your gums to get rid of any remaining adhesive.
Soak Your Dentures Overnight
Dentures usually need to stay moist to maintain their shape. Before going to bed, let your dentures soak in a glass of water or denture cleaning solution overnight. Only use cold or room-temperature water, as hot water can warp the material and cause your dentures to lose their fit. In the morning, be sure to rinse your dentures before placing them back in your mouth.
Visit Your Dentist Regularly for Checkups
Even if you have no natural teeth left, dental checkups are still important. Your dentist can examine and professionally clean your dentures, which helps them last longer. Your dentist will also make sure that your prosthetic still fits correctly and that the inside of your mouth is still healthy.
Caring for dentures requires a bit of a learning curve at first, but by following these tips, it will soon be second nature. You'll be able to enjoy several years of healthy, confident smiles!
About the Author
Dr. Torin Marracino achieved his Doctor of Dental Surgery Degree in 2005 from the University of Tennessee. Currently, he provides dental care to patients of all ages at Pleasant Grove Family Dentistry in Texarkana, TX. He proudly offers full, partial, and implant dentures – he can even place dental implants himself, having earned Fellowship status with the International Dental Implant Association. For more tips on caring for dentures, contact Dr. Marracino at 903-838-9700.