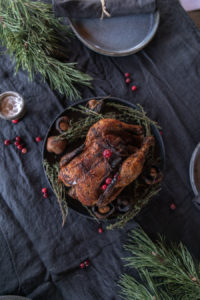 Thanksgiving is right around the corner. As you and your loved one's gather at the dinner table, you'll share stories and swap information, just like the Pilgrims and Native Americans did during the first Thanksgiving. However, hunting and gathering tips probably weren't the only things they learned from one another. They learned about each other's oral hygiene methods, too. Although we don't chew on twigs to keep our teeth clean, early oral hygiene techniques paved the way for modern brushing and flossing habits. 
Early Oral Hygiene Methods
Believe it or not, toothbrushes weren't used in the US until 1885, but that doesn't mean early settlers didn't try to keep their teeth clean. Both Pilgrims and Native Americans used various objects to clean their pearly whites, like animal hair bound to twigs, pine tree needles, or animal bones, which made them abrasive. Despite their intentions, their cleaning methods weren't very effective and often did more harm than good.
It was the Native Americans that had better oral hygiene practices. They didn't just use sage to season their foods. They cleaned their teeth with frayed twigs and sage. While you don't scrub your teeth with a stick, many modern kinds of toothpastes have minty flavors because of the herbs they used.
Invest in a Healthy Smile for the Holidays
As you share reasons to be thankful this holiday season, a healthy smile should be at the top of your list. A good oral hygiene routine can keep tooth decay and gum disease at bay to preserve your natural smile. You can enjoy a healthy, beautiful smile in the new year by keeping a few preventive tips in mind:
Step Up Your Brushing Routine
The American Dental Association recommends using a soft-bristled toothbrush and nonabrasive toothpaste to brush your teeth at least twice daily. However, you'll be snacking more often, so it's better to brush after every meal. If you can't get to your toothbrush, chew a piece of sugarless gum. Don't forget to floss before heading to bed.
Many Thanksgiving staples can feed cavity-causing bacteria, like stuffing, yams, and cranberry sauce. Not to mention, dark foods and drinks can stain your teeth, like coffee or red wine. It's best to avoid sugary and stain-causing foods, but if you can't resist, rinse your mouth with water after.
Water keeps you hydrated, but it also keeps your mouth moist to combat bacteria growth. Drinking water also helps cleanse your teeth between brushing and flossing.
A commitment to your oral hygiene will give you healthy teeth and gums and another reason to smile as you celebrate the holidays.
About Dr. Torin Marracino
Dr. Marracino achieved his dental degree from the University of Tennessee and has regularly pursued advanced education in many specialties, like dental implants and sleep medicine. He is an active member of many professional organizations, including the American Dental Association. If you need a cleaning and checkup before the holidays, contact our office today to request an appointment.