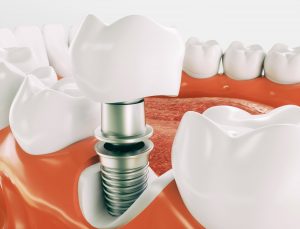 Did you know that the first dental implants were invented all the way back in ancient China in the year 2000 BC? Back then, carved bamboo pegs were sometimes used to replace missing teeth. Ouch!
Thankfully, dental implants have advanced considerably since then – and of course, they no longer are made from bamboo. In fact, modern dental implants that were first developed in the 1970s are today considered the most effective and reliable tooth replacement solution available.
Keep reading to discover what implant material has replaced bamboo and why so many dentists recommend dental implants to replace missing teeth.
What Are Dental Implants?
Dental implants are the only restorative treatment that replaces both the visible portion of the tooth and the tooth root structure.
A small metal rod inserted into the jawbone beneath the gums, dental implants gradually fuse with the surrounding bone through a natural process called "osseointegration". By replacing the missing tooth root structure, dental implants are able to provide an extremely stable base for a new artificial tooth or other dental prosthetic.
What Are Dental Implants Made Of?
Dental implants are typically made from the extremely durable metal known as titanium. Why? In addition to its strength and durability, titanium is biocompatible, meaning it can remain in the body without harming any living tissue. This allows the jawbone to safely and naturally fuse with an implant to provide maximum support for a new artificial tooth.
The replacement tooth or teeth that are placed on top of the dental implant are usually made from porcelain or similar ceramic material. Porcelain is strong enough to withstand natural chewing forces and can be color-matched to blend in seamlessly with a patient's smile.
The Benefits of Dental Implants
Dental implants are widely viewed as the best tooth replacement solution available today due to their many advantages, such as:
Maximum Support – Dental implants provide nearly the same chewing power as natural teeth, enabling patients to eat all their favorite foods without worry!
Preserve Healthy Teeth – Unlike conventional bridges that rely on adjacent healthy teeth for support, dental implant treatment leaves natural teeth untouched. 
Natural Appearance – Implants are custom-designed in shape and color to blend in with a person's natural smile.
Long-Lasting Results – With proper care, dental implants can last for decades! 
Am I a Good Candidate?
If you are missing one or more teeth, you are likely a good candidate for dental implants. According to the American Association of Oral and Maxillofacial Surgeons, dental implants have a success rate of approximately 95%! Key factors that can determine the success of implant treatment include:
The health of your gums
The depth and strength of your jawbone
Whether you practice excellent oral hygiene at home
Head into the new year with a new, improved smile in the works! Talk to your dentist today about how modern titanium dental implants can restore both your smile and your confidence.
About the Author
Dr. Torin Marracino has over a decade of experience helping men and women restore their smiles with dental implants. An active member of the Arkansas State Dental Association, Dr. Marracino leads the team at Pleasant Grove Family Dentistry in providing compassionate, quality oral care to the Texarkana community. Patients interested in learning more about dental implants can visit the Pleasant Grove Family Dentistry website or call 903-838-9700.