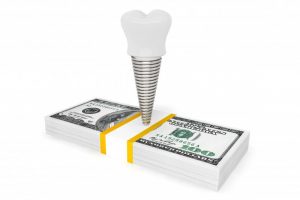 Have you been thinking about getting your missing teeth replaced? While there are plenty of options available these days, most dentists consider dental implants to be the most beneficial choice. If you've researched them at all, though, you might have noticed that dental implants tend to have a higher price than conventional treatments like bridges or dentures. Will your dental insurance help to lessen this cost? Continue reading to find out.
Does Dental Insurance Cover Dental Implants?
Typically, dental insurance providers are quite selective in terms of which services they cover. They usually take care of the full cost of preventive care and a portion of the cost of restorative treatments.
Additionally, they might only cover the least expensive option when it comes to correcting a certain dental problem. For tooth loss, dentures and bridges cost notably less than dental implants, so they're more likely to be covered. Moreover, some insurance companies consider dental implants to be a solely cosmetic service (which is almost never covered), despite the many, many oral health benefits they deliver.
Are Dental Implants Worth the Cost?
Absolutely! They provide countless advantages over traditional bridges and dentures, including:
Since implants are inserted into your jaw, you can trust your new teeth to not slip around when you're talking or eating. They'll also feel just like the teeth you were born with.
Implant-retained teeth are durable enough to let you chew all of your favorite foods.
The posts stimulate your jawbone to prevent it from atrophying and becoming unable to adequately support your facial structures.
With the right aftercare, dental implants can last for 30 years or more. You might actually save money in the long run that you would have otherwise spent on replacing a denture or bridge every 5-10 years.
Caring for dental implants is as simple as brushing, flossing, and going to your routine checkups and cleanings.
How Can You Pay for Dental Implants?
If your insurance won't pay for dental implants, that doesn't necessarily mean you'll have to settle for a less-than-ideal alternative. Dentists understand that paying for the care your mouth needs can sometimes be difficult. That's why many of them offer third-party financing options. With companies like CareCredit, you can take out a low-interest loan and pay it back in monthly, budget-friendly installments.
Although your dental insurance might not cover the cost of the implants themselves, they'll often mitigate other costs of the treatment, such as your restoration or preliminary work like gum disease therapy. The only way to know for sure how much you'll end up paying for your new teeth is by consulting with your dentist. Their team will be happy to help make rebuilding your smile more affordable!
About the Author
Dr. Torin Marracino obtained his Doctor of Dental Surgery degree in 2005 from the University of Tennessee. His practice in Texarkana is in-network with BlueCross BlueShield, Cigna, Dentemax, and Delta Dental, but is happy to file claims for any PPO provider. They also offer third-party financing through CareCredit. To schedule your dental implant consultation, visit their website or call (903) 838-9700.